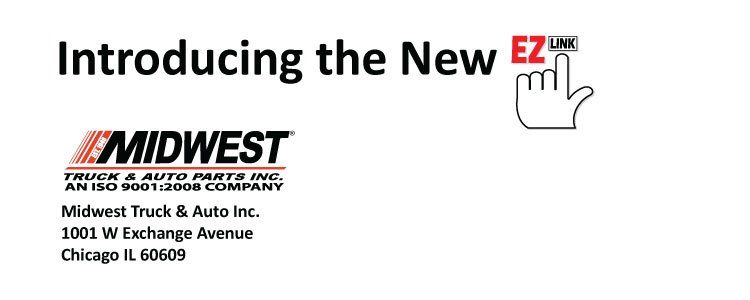 EZ-Link is New and Improved
DEC 7, 2015 CHICAGO – Midwest Truck & Auto Parts Inc. the premiere manufacturer of truck and automotive aftermarket drive-train products announces the launch of the upgraded EZ Link online ordering system at https://ezlink.midwesttruck.com
Online ordering is now even easier with EZ Link. Registered distributors can search tens of thousands of parts by part number, description, category, or original manufacturer's number. The new and improved EZ Link business to business portal allows registered distributors of Motive Gear, World American, Richmond Gear, TEN Factory and Powertrax brands to see inventory in real time, place orders and much more. Distributors can access the portal 24/7 from nearly any device.
While the speed entry function allows distributors to quickly order parts by part number, the new search allows for searching by part number, OE number, description, or partial numbers or descriptions. Distributors will immediately see thumbnail images, prices, availability and even order directly from the new search results page. In addition, EZ Link product pages have been greatly expanded with large photos, product specifications and application fitment information, plus the same easy to use availability display and ordering as on the search results page. The shipping section has been completely redesigned to show tracking numbers, invoices and shipments in one place, with a robust search for old shipments. Similarly, the invoices section allows distributors to quickly lookup, print or email invoice history and search for old invoices by number, PO or partial number.
"We are dedicated to delivering exceptional service to all of our distributors. This release of the EZ Link portal provides our customers with a new level of control over ordering, availability, order status and invoicing," said Mark Chudacoff, CEO of Midwest Truck & Auto Parts Inc.
About Midwest Truck & Auto Parts Inc.
The Midwest Truck and Auto Parts Inc. family of companies is proud to celebrate nearly 70 years of providing the automotive and truck industry with the quality drivetrain and aftermarket parts. Midwest Truck & Auto Parts is ISO 9001:2008 certified for continuously improving processes for consistently delivering the highest quality products to customers.
With four strategic warehouses across the United States: in California, Texas, Georgia and Illinois, plus a Miami-based sales office dedicated to serving Latin America, Midwest Truck & Auto Parts Inc. is ready to serve the needs of racing teams, off-roaders, warehouse distributors and jobbers worldwide. To help serve our grown international customer base, we have a team of professionals trained in the intricacies of export documentation allowing for swift customs clearance and expedited shipping. From full container load shipments to LCL shipments to courier parcels, Midwest Truck has the expertise.
For media or sales inquiries, please call (800) 934-2727 or moreinfo@midwesttruck.com
Midwest Truck & Auto Parts Inc.
1001 W Exchange Ave. Chicago, IL 60609
(773) 247-3400